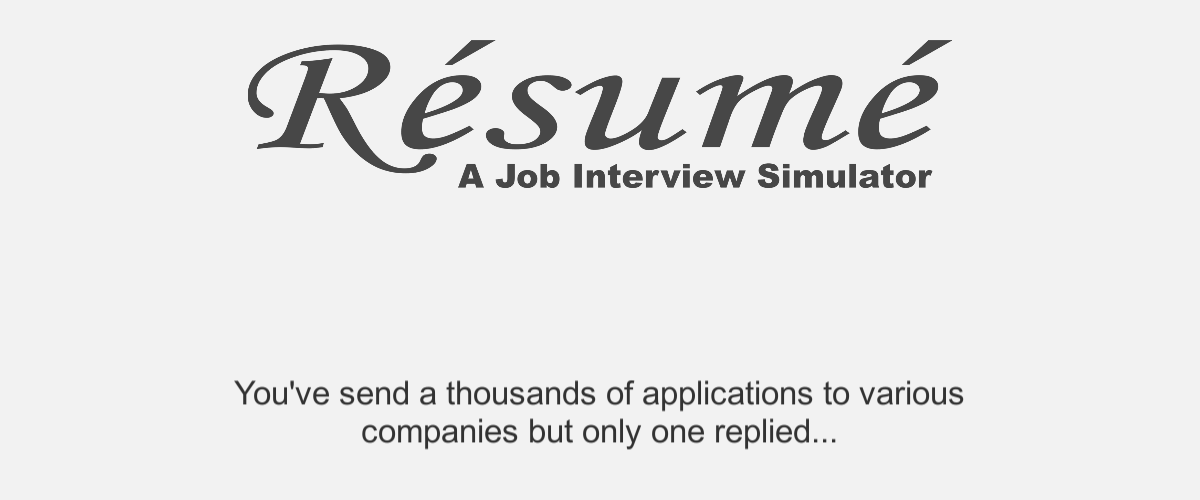 Résumé: A Job Interview Simulator
A downloadable game for Windows
It is a FULL VERSION now! HURRAY!!!
I had to google "resume" a few times in last 40 hours to get these fancy "é" letters...
Premise

This is a simple, very simple game about job interviews and how they turn out to be some weird kind of memory test... Seriously! HR people often ask us strange things...
The worst part is when you make a lot of fake résumés and you don't remember what you've put in them...
Instruction
Analyze your résumé and answer questions from the HR Guy. Maybe he will hire you (probably not). There are some questions without given answer. Those are for you to choose what you would like to say (keep in mind that the questions will return and be prepared to said the same answer)!

Now with Achievements
There are 13 different possible "endings" for you to discover. Unravel the simple story of the HR Guy, Fourth Wall, Black Cat and MIKE through answering more and more questions!

Credits

Prize badge with star and ribbon by freepik.
Design, mechanics, graphics, code and music by me myself.

Soundtrack: https://soundcloud.com/lord_stett/resume
HAVE FUN!
Game made for Pizza Jam 2 (June 2018)
Included updates:
- "MOTHER, FATHER, SISTER, BROTHER"
- "CATCH'EM ALL"
- "I NEED TO KNOW MORE"
Download
Click download now to get access to the following files:
Résumé Pizza Jam 2 DEMO (32-bit)
20 MB
Résumé Pizza Jam 2 DEMO (64-bit)
23 MB
Résumé 1.2 (32-bit)
24 MB
Résumé 1.2 (64-bit)
27 MB